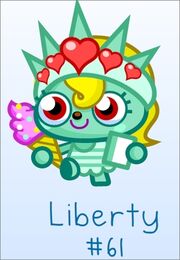 Liberty is the 2
nd
moshling from the set Worldies.
With a lipsmackin' ice cream in one hand and a never-ending wish list in the other, Happy Statues believe in having fun, playing games and making wishes. They even wear magical crowns that glow every time they think up a new wish. It's not that these cheerful Moshlings are greedy, they just adore dreaming about yummy treats, cool clothes and twinkly trinkets. You go, girl!
Species
Happy Statue
Set
Worldies
Rarity
Rare
Rarity Number
061
Habitat
Happy Statues live on Divinity Island but rumor has it they were shipped over from a mysterious land called Prance.
Personality
Brash, confident, cheery
Likes
Big apples and star spangled sweeties.
Dislikes
Rust and flash photography.
How To Obtain
Edit
Use these 3 seeds:
Red Love Berries
Black Love Berries
Any Love Berries
Liberty was the first moshling to be designed by a fan.
Liberty was designed by monster Chaowzee.
Many people get Liberty instead of Ecto because they plant 3 Love Berries hoping for a Red and a Black (as Ecto's seeds are Red Love Berries, Black Love Berries and Any Hot Silly Pepper) and because they get them they get Liberty.