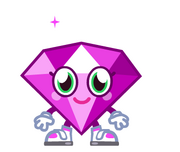 Roxy is the first moshling in the set Secrets.
Deep beneath the twinkly-dink mines lays a rich seam of rox. but Precious Prisms don't hang out there. it's too obvious! these super ultra rare moshlings are so priceless they're scared to lay a finger on anything (including themselves!) in case they leave smudges, hence the silly white gloves. Crazier still, they often shatter into squillions of pieces. Handle with care!
???
How To Obtain
Edit
Enter the code HOBBIDIDANCE when signing in.
Roxy was the first secret moshling, then the second, then the third, and now she's last.
Ad blocker interference detected!
Wikia is a free-to-use site that makes money from advertising. We have a modified experience for viewers using ad blockers

Wikia is not accessible if you've made further modifications. Remove the custom ad blocker rule(s) and the page will load as expected.