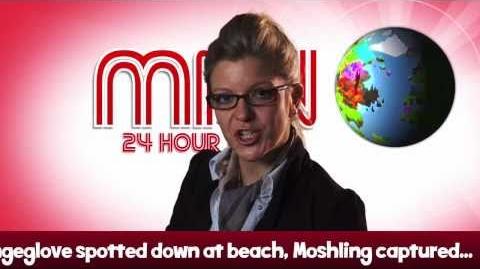 The Super Moshis are one of the most famous groups on Moshi who fight against C.L.O.N.C.
1. Missing Moshling Egg
Edit
In the first mission you recover a missing moshling egg which is stolen from Buster Bumblechops. This mission is seperate to the others, unlike the last few missions in Series 1 which follow on from each other.
2. Voyage Under Potion Ocean
Edit
In this mission  you have to travel under water to get to the Glump Machine which you stop and get a  moshling called Wurley.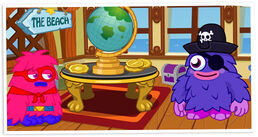 3. Strangeglove From AboveEdit
4. Candy Castarophe
Edit
5. Pop Goes The Boo Boo
Edit
6. Super Moshiversity Challenge
Edit
7. 20,000 Leagues Under The Fur
Edit
8. Spooktacular Spectacular
Edit
9. Snow Way Out
Edit
10. Super Weapon Showdown
Edit
11. Close Encounters Of The Zoshi Kind
Edit
12. Sandy Drain Sheningans
Edit
13. Bungle In The Jungle
Edit
14. Big Top Ballyhoo
Edit
15. Curse Of The Paw Wavin' Kitten
Edit
16. Welcome To Jollywood
Edit
17. Masters Of The Swooniverse
Edit
18. Kick Some Asteroid
Edit
19. Missing On A Star
Edit
20. Cosmic Countdown
Edit
21. Lost In Hong Bong
Edit
22. Freezy Rider
Edit
23. The Unusal Suspects Part 1
Edit
24. The Unusal Suspects Part 2
Edit
25. The Unusal Suspects Part 3
Edit
26. Somewhere Clover The Rainbow Part 1
Edit
27. Somewhere Clover The Rainbow Part 2
Edit
28. Somewhere Clover The Rainbow Part 3
Edit
29. Somewhere Clover The Rainbow Part 4
Edit
30. Somewhere Clover The Rainbow Part 5
Edit
31. Somewhere Clover The Rainbow Part 6
Edit
32. Somwhere Clover The Rainbow Part 7
Edit
33. Choc-O-dile Blues Part 1
Edit
34. Choc-O-dile Blues Part 2
Edit
35. Choc-O-Dile Blues Part 3
Edit