Wurley is the 2nd moshling in the set Techies.

Bio
Thanks to the motory-rotory headgear, these tin-skinned Moshlings can quickly transport Rox and other precious thingies across the world of Moshi. As they wokka-wokka through the clouds, Tiddlycopters love humming classical music and performing loop-the-loops. Weeee!
Facts
Species
Twirly Tiddlycopter
Set
Techies
Rarity
Ultra Rare
Rarity Number
105
Habitat
Swarms of Tiddlycopters sometimes flitter over Nuttanbolt Lake, but they spend most days hovering around Hanger Eight-and-a-Half.
Release Date
14th February 2011
Traits
Likes
Windsocks dipped in oil and cloudless skies.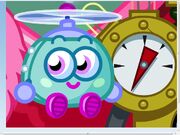 Dislikes
Loose bolts and rain.
How To Obtain
Complete Super Moshi Mission 2 - Voyage Under Potion Ocean
Trivia
You get Wurley by doing the 2nd Super Moshi Mission.
Wurley helps you out in the 4th Super Moshi Mission, Strangeglove From Above, and you can change him into "Turbo-Charged Wurley" using electricity.